Eruption is the seventh mission in Earth Defense Force 2025 and Earth Defense Force 4.1: The Shadow of New Despair. It introduces Whale, the Transportation Team Porters and the Artillery Team, and is the first time the Operator speaks.
Objective
Edit
2025: Emergency support request. Giant spiders have emerged from underground. They've invaded the city and are attacking citizens. These are a formidable enemy and there are a great many of them. The Air Raiders are taking point. Air Raiders, move out!
4.1: Emergency support request: Giant spiders have emerged from underground. They've invaded the city and are attacking civilians. These are a formidable enemy and there are a great many of them, so the Air Raiders are taking point. Air Raiders, move out!
Storyline
Edit
Most of the mission is spent introducing things that the Air Raider can do. HQ kicks things off by ordering Storm Team to engage the giant insects, while Ohara cautions them that the new giant insect is "tough" (which it is not) and to fight carefully.
Interrupting them, the Tactics Officer states that the heavy air support aircraft Whale has arrived and is circling the combat area. Whale's rather jolly pilot then calls in, saying he is ready to take support requests and that the ground forces have a "friend in the air," then describing his aircraft's armament; Vulcan guns, rockets, and a 120mm cannon.
The Tactics Officer then announces that a formation of Hydra transport helicopters have arrived, identifying it as the transportation unit Porters and surprising HQ, who apparently was not expecting this to happen. Porters introduces herself and says she is ready to drop state of the art vehicles at the Air Raider's request. HQ then radios Storm Team to repeat the same information and act like it was his idea.
Finally, the Tactics Officer announces the arrival of the Artillery Team, and they introduce themselves, saying their self-propelled howitzers and rocket launchers are in position. This clearly pleases HQ, who orders the Air Raider to mark targets, saying that the bugs will "break into thousands of pieces."
At the end of the mission the Operator, a rather excitable young woman, announces that "information" has leaked to the media. This shocks the normally unflappable Tactics Officer, but she soon recovers, stating that the information has already been publicly announced. HQ grumbles that they would have found out sooner or later anyway. The precise nature of this information is not revealed until the next mission.
4.1 Changes
Edit
Oddly for a mission that would make sense if numerous NPC vehicles and some airstrikes were added, just one E551 Gigantus is added to this mission accompanying the Ranger unit. Since it drives right into the mass of Spiders, it is usually destroyed before really doing anything of note. It does take place in the exact same area of City 2 as 4.1's version of Reconvene, however, with the Spiders spawning roughly where the second and fourth waves of Ants appeared before, so it benefits from familiarity.
2025:
2 waves of Spiders, 38, 59.
4.1:
2 waves of Spiders, 54, 59.
Online Limits
Edit
Armor Limit
There's no limit for Inferno difficulty.
Difficulty
Ranger & Air Raider
Wing Diver
Fencer
2025
4.1
2025
4.1
2025
4.1
Easy & Normal
470
467
285
283
588
584
Hard
1596
1624
848
862
1995
2030
Hardest
3064
3592
1582
1892
3830
4491
Weapon Level Limit
| | | | | |
| --- | --- | --- | --- | --- |
| Game | Easy & Normal | Hard | Hardest | Inferno |
| 2025 | 3 | 26 | 51 | 81 |
| 4.1 | 3 | 26 | 54 | 83 |
Approximate Weapon Drop Rate
| | | | | | |
| --- | --- | --- | --- | --- | --- |
| Game | Easy | Normal | Hard | Hardest | Inferno |
| 2025 | 0-1 | 0-1 | 9-21 | 0-46 | 0-53 |
| 4.1 | 0-1 | 0-1 | 11-26 | 0-47 | 0-53 |
Strategy
Edit
Both Versions
Edit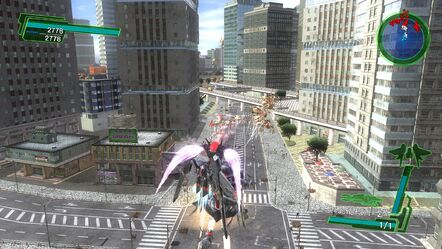 Sadly there is no such thing as an NPC Air Raider in either game, and so unless there is a player character Air Raider present with the relevant gear, the introductions are just for show. Otherwise, this mission is a fairly straightforward battle against two waves of Spiders, one nearby and then a larger one some distance away, each spawning with a group of civilians to spider at for a while before they direct their attention to Storm Team and the Ranger Team.
This is a good mission to use area-effect weapons since the Spiders like to bunch up, but it is essential to keep a close-range weapon to hand to deal with those that manage to get near. The suggestion of using Air Raider support is a good one, and dropping artillery on groups before they have finished with their civilian friends is an excellent way to thin out the swarm.
Because the first wave of Spiders spawns very nearby, even though they have a perfectly good group of civilians to menace, some may decide that the Rangers and Storm Team are being left out and come over to give them a good menacing too. They will use long, low jumps to close range, often landing to the sides or behind if Storm Team stay in their starting location. Good situational awareness and an eye on the radar are needed to avoid very powerful close-range attacks from errant Spiders.
The second wave spawns near the top of the park, ahead and to the right of the starting location. It is a good idea to head right from where the first group of Spiders started out rather than heading out into the park, since the Spiders like to jump on the park's overhead walkways and then crawl under them to attack from the ceiling. The narrow space funnels their thread attack and makes it more dangerous and harder to avoid. Going right also means attacking one flank of the second wave rather than having most of it attack at the same time, and keeps the number of Spiders manageable.
Ad blocker interference detected!
Wikia is a free-to-use site that makes money from advertising. We have a modified experience for viewers using ad blockers

Wikia is not accessible if you've made further modifications. Remove the custom ad blocker rule(s) and the page will load as expected.