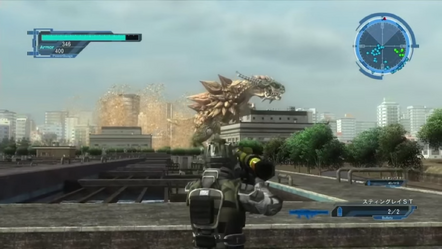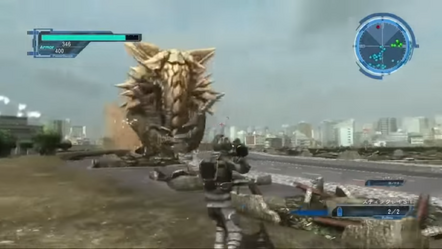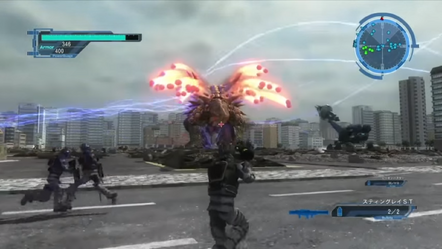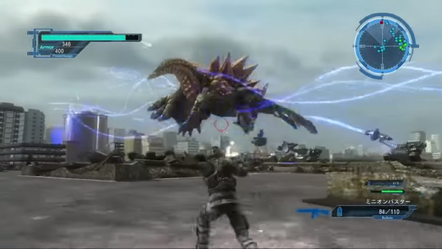 A new kaiju monster has been seen in a promotional video for Earth Defense Force 5. Nicknamed as "Not Anguirus" previously due to the fact that the official name wasn't revealed in the past, its official name was now revealed  [[1]] as Akerusu (アーケルス) or Archelus. 
Thus far, it is known to appear in mission 4.
Description
Edit
The creature, standing at 69 meters in height, is somewhat smaller and shorter than the Erginus (72 meters in height) that is fought immediately before it, but much bulkier. In-keeping with the tendency for new EDF 5 enemies to be more agile, it is fast and capable of dodging.
The creature has several attacks, of which the most distinctive is curling up into a ball and rolling, using its spiked body to deal damage. This is also an evasion move, with the creature rolling backwards to avoid gunfire at one point and frequently side-rolling.
It has a combination of physical and projectile attacks, striking with its hands and performing a remarkably silly belly flop move at one point to defeat the EDF MASER tanks that just slew its larger sibling.
It also launches volleys of glowing orbs from its sides which explode after a short time. Two types of attack are seen in the video, one where it launches them all around itself and another where it turns side-on and fires several spreads of shots in one direction.
Since the gameplay video ends with the character being killed instantly by the creature's rolling attack, it is not clear if it can be defeated in this mission.
Ad blocker interference detected!
Wikia is a free-to-use site that makes money from advertising. We have a modified experience for viewers using ad blockers

Wikia is not accessible if you've made further modifications. Remove the custom ad blocker rule(s) and the page will load as expected.