Shining Stronghold is the twentieth mission in Earth Defense Force 2025 and Earth Defense Force 4.1: The Shadow of New Despair. It is the first to have Crimson Ants, though to say it introduces them is a bit of a stretch, they just kind of turn up.
Objective
Edit
2025: The Ravager transport ships have dropped something in the mountains. Intel has confirmed that it is a defensive screen. We are dispatching Fencers to the location. The Storm Team will provide support.
4.1: The Ravager transport ships have dropped something in the mountains. Intel has confirmed it's a defensive screen. We are dispatching Fencers to the location. Storm Team will provide support.
Storyline
Edit
Storm Team arrives to the montains where they find out that the Shield Screens are defending three Giant Insect Tunnels. They are ordered to destroy them.
Both versions:
Waves
Enemies
Notes
1st
2 x Shield Bearers

3 x Tunnel Exits

47 x Black Ants

The Shield Bearers are immobile.

15 Ants spawn at the left tunnel, 14 at the right and 18 at the back.

2nd
4 x Crimson Ants
When two Tunnel Exits are destroyed, they spawn at the third one.
Online Limits
Edit
Armor Limit
There's no limit for Inferno difficulty.
Difficulty
Ranger & Air Raider
Wing Diver
Fencer
2025
4.1
2025
4.1
2025
4.1
Easy & Normal
624
615
362
357
780
769
Hard
1805
1892
952
996
2257
2365
Hardest
3203
3794
1651
1947
4004
4742
Weapon Level Limit
| | | | | |
| --- | --- | --- | --- | --- |
| Game | Easy & Normal | Hard | Hardest | Inferno |
| 2025 | 7 | 30 | 55 | 95 |
| 4.1 | 6 | 30 | 57 | 95 |
As there is no weapon above level 95, there is now effectively no weapon level limit on Inferno difficulty.
Approximate Weapon Drop Rate
| | | | | | |
| --- | --- | --- | --- | --- | --- |
| Game | Easy | Normal | Hard | Hardest | Inferno |
| 2025 | 0-4 | 1-5 | 14-26 | 0-51 | 0-60 |
| 4.1 | 0-4 | 0-5 | 15-30 | 0-51 | 0-60 |
Strategy
Edit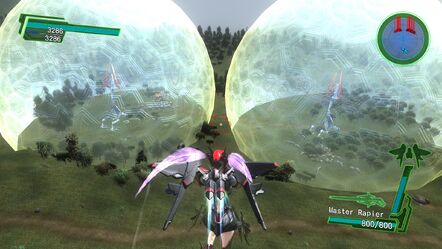 This is a fairly simple introduction to Tunnel Exits under Shield Bearers, though it can be tricky for a first-time player. The mission starts on a steep hillside: below, there are two Tunnel Exits protected by the Shield Bearers, and one more Exit to the rear of the right one hidden among trees but outside their coverage. The Shield Bearers in this mission do not move even if they are attacked, and are always in their "deployed" state.
Unlike Land Collapse, the Tunnel Exits are all present at the start of the mission and instantly deploy a full set of 47 Ants; they are not aggro'd, and will just mill around until they are disturbed.
This mission is similar to the previous one in terms of combat, only with multiple small enemies under the screen rather than a few tough ones. A Ranger should bring his best shotgun or assault rifle, backed up with a rocket launcher or Fusion Blaster for dealing damage to the Tunnel Exits and Shield Bearers.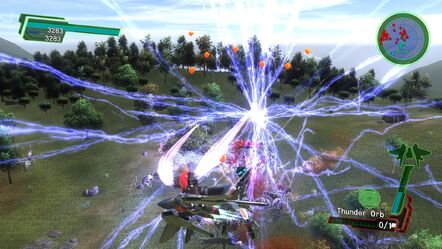 A Wing Diver can actually get some mileage out of her downward-firing Orb weapons (Psicluster, the Thunder Cluster / Thunder Orb, or the Heaven's Gate series) if the player has mastered throwing them. Deploying one above a Tunnel Exit will basically switch it off for the entire duration of the weapon's effect, and usually destroy it outright. Otherwise, a Rapier is effective here, as are the Idunn and Thunder Bow weapons.
Since there are multiple small targets, an Air Raider is best off stomping inside the Shield Screen with his best BM03 Vegalta, though flying an EF31 Nereid low enough will also allow it to open fire from under the Shield while being well-protected from return fire. Since the rear Tunnel Exit has no shield, it can be targeted with strikes from the top of the hill, though it should be noted that Shield Screens block the beam of a Guide Kit-marked strike and so a clear line of sight is required to use one.
The Fencer is once again in his element here and can have a party with his CC Strikers or CC Piercers, with the Vulcan Hammer being particularly effective against the Tunnel Exits due to its focused damage.
Two teams of scripted NPC Fencers are present, but since NPCs do not know how to dash, they will take a long time to trundle down the hill and get into a position where they can do something useful. It is generally fine to ignore them: they will draw some Ants up onto the hill, reducing the number attacking Storm Team.
Beginning the level is a matter of choosing which Exit the player wants to take out first; the one on the right has the Exit right next to the Shield Screen, while the one on the left has it further away. The right-hand one also does not seem to aggro the left-hand Tunnel's Ants nearly as often as vice versa, though attacking either will aggro the ones by the rear Exit.
Destroying the rear Tunnel Exit next is a good plan; while this does spawn the Crimson Ants under a shield, they spawn aggro'd and will immediately run out from under it, so there is not much difference, and the rear Exit spawns the most Ants of the three.
Crimson Ants are essentially just more powerful versions of the biting Black Ants already encountered, and attack in exactly the same way. They are larger, significantly tougher, and deal more damage with their bite attack.
Finishing the mission after dealing with these uncommented-on guests is just a matter of repeating what was done to start it.
4.1 Changes
Edit
No changes.
4.1 Strategy
Edit
No changes.
Ad blocker interference detected!
Wikia is a free-to-use site that makes money from advertising. We have a modified experience for viewers using ad blockers

Wikia is not accessible if you've made further modifications. Remove the custom ad blocker rule(s) and the page will load as expected.