Welcome to the The Earth Defense Force Wiki
Edit
This wiki is for the Earth Defense Force series of games developed by Sandlot and Vicious Cycle and published by D3 Publisher.
EDF! EDF! EDF!
What this wiki is...
Edit
This wiki is for any Earth Defense Force fans to edit existing articles or add new articles. Any additions that you can make are welcome and encouraged as lately it has just been a few of us making the large contributions. So far we have very little to no information about EDF2 (Global Defense Force) and I am unable to purchase/play this game in the US so any contributions about this game will be very helpful. Only a few simple rules need to be followed.
Rule 1: Only create articles that are about something from the Earth Defense Force games.
Rule 2: No articles on individual weapons. Articles on types of weapons are fine however. Exceptions to this rule are the Genocide Gun and the Pesticide weapons.
Rule 3: No spam. I cannot stress that enough.
Games in the series...
Edit
Monster Attack (Earth Defense Force)
Earth Defense Force 2017 (EDF 3)
Earth Defense Force Insect Armageddon
Earth Defense Force 2025 (EDF 4)
Earth Defense Force 4.1: The Shadow of New Despair
15/12/12
This is quite an important update, having been quite busy with life and such I haven't had much time. However I am playing Monster Attack and Global Defense Force once again. I will be adding to these pages with details of the game. Posted by WhiteLion02
I've added an article on Monster Attack, its pretty brief, but i'll play through more of the campaign this week and add as I go. Posted by WhiteLion02
A new article has been made covering the Earth Defence Force history, background, vehicles and structure is available here. Posted by WhiteLion02
Calling on anyone who has experiance with Monster Attack! and Global Defense Force. Please contribute articles about these games.
I won't be online from June 3rd - July 6th. When I get back I will start working on every article related to Insect Armageddon. Please contribute!
Sorry for the inactivity. Once insect armageddon is released, I will create a massive article about the weapons in that game.
10 articles so far. Only 40 more to go!!!
Our goal is to get 50 articles by the time Insect Armageddon is released. Lets get started. We are also looking for some people to become Moderators. Message me on my facebook or email me at MalovolpeEvilfox(at)yahoo.com if you are interested.
Latest activity
Edit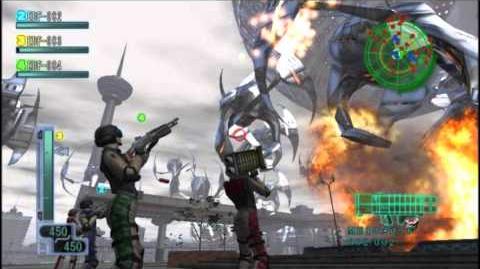 Earth Defense force 3 PORTABLE