The Package is the third level of the third and final chapter of EDF: Insect Armageddon, making it the thirteenth level in all.
Ops sends in Strike Force Lightning to retrieve an item known as "the package" after another individual of EDF "lost it" after a group of Landers are brought down by the Ravagers. Its proper location is narrowed down to 4 places—the aforementioned landers. Unfortunately Ops warns Lightning that the area is swarmed with Buggernauts. The contents of "the package" are also considered classified.
The level has fourth points where you must hold your ground and kill off a full swarm of giant insects. On the second scan there will be three Anthills to constantly spawn enemies, and on the fourth there will be a mid-boss battle against three Ravager Mantises at once.
Basic Information
Edit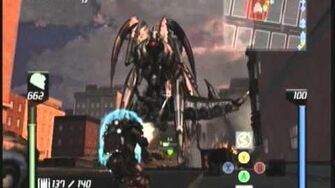 MISSION: The Package
OBJECTIVE: New Detroit
SECTOR: Financial District
Lightning is on the hunt. The mystery deepens.
Zero-Kill XP:
Previous Mission: Busy Work
Following Mission: Mushrooms
Objectives
Edit
Approach the first crash site.
Move to the second crash site.

Hold this position... Scanning...
Destroy all Ravagers.

Proceed to the third location.

Hold your position... Scanning...
Destroy incoming Ravagers.

Destroy Mantis.
Investigate the fourth crash site.

Scanning the site... Standby...
Eliminate all Ravagers. Lander inbound.
Move to the marked location.
Prepare to board the Lander. [ENDS MISSION]
Ad blocker interference detected!
Wikia is a free-to-use site that makes money from advertising. We have a modified experience for viewers using ad blockers

Wikia is not accessible if you've made further modifications. Remove the custom ad blocker rule(s) and the page will load as expected.