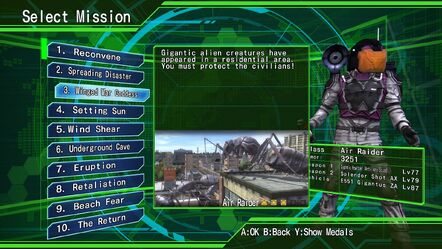 Winged War Goddess is the third mission in Earth Defense Force 2025 and Earth Defense Force 4.1: The Shadow of New Despair. It is the first to introduce Wing Divers as NPCs, and the last to include black Ants with a bite attack outside of one mission later in 4.1.
Basic Information
Edit
MISSION ORDER:
2025: 3 (Online 3)
4.1: 3 (Online 3)
OBJECTIVE:
2025: A gigantic alien creature has appeared in the residential area. You must protect the civilians!
4.1: Gigantic alien creatures have appeared in a residential area. You must protect the civilians!
Map: Town (both versions)
Both versions:
4 waves of black Ants: 15 biting and 15 acid, 15 biting and 20 acid, 20 biting and 20 acid, 10 biting and 42 acid.
Storyline
Edit
Since the Wing Divers have not yet arrived, the Rangers and Storm Team are forced to proceed without them. As they fight, Ohara is unable to believe that so many insects survived the extermination, and worries that since the ants show evidence of evolutionary change in the seven years since they were last seen, there may be other unexpected changes that the EDF will not be ready for.
Eventually the Wing Diver unit bothers to show up, and the last of the giant insects quickly fall to the "Goddesses of Victory." However, the jubilation is short-lived as the EDF suddenly loses contact with another Wing Diver unit, with HQ concluding that something must have happened to them. The mission ends with a Ranger questioning how the Wing Divers could possibly lose.
Winged War Goddess is another fairly straightforward mission fought mostly on a long wide road with a tramline down the middle, surrounded by small buildings which give the ants minimal ambush abilities. The only difficult part on higher difficulties is the approach to the final wave since it takes place in an area filled with trees, which can mask acid sprays from groups of bugs in the open field.
The first three waves of Ants are fought alongside a Ranger team; this team cannot be recruited unless the leader is killed, and automatically moves forward. The ants spawn under and around an elevated monorail train station, next to a large building that we're going to call a cinema for the sake of argument, and at the end of the long road.
When the last of these waves is killed, a group of NPC Wing Divers which also cannot be recruited will spawn and head back and to the left, making for an area under the bridge over the shallow river where about half of the final group of Ants has spawned; the other half spawns in and around the houses surrounding a field that leads to this area.
It is just this side of entirely possible for the entire Wng Diver unit to get themselves killed after arriving; it does not matter in the slightest if this happens. Neither does it matter if the EDF actually protects the civilians who are present rather than, say, dropping a Tempest S1A ballistic missile on them: it seems that as long as the giant insects get killed, protecting is assumed to be happening.
Online limits
Edit
These limits have been checked in 4.1.
Level limit
Edit
| | | | | |
| --- | --- | --- | --- | --- |
| | Easy & Normal | Hard | Hardest | Inferno |
| Level limit | 2 | 25 | 53 | 79 |
Armor limits
Edit
There is no armor limit on Inferno difficulty.
| | | | |
| --- | --- | --- | --- |
| Class | Ranger & Air Raider | Wing Diver | Fencer |
| Easy & Normal | 422 | 261 | 528 |
| Hard | 1541 | 820 | 1927 |
| Hardest | 3530 | 1815 | 4413 |
 Approximate weapon drop levels (2025)
Edit
Easy: 0-0
Normal: 0-0
Hard: 8-20
Hardest: 0-45
Inferno: 0-51
4.1 Changes
Edit
The mission is virtually identical in 4.1, save that one Ant in the second wave will spawn stuck between two houses to the right of the cinema and is not able to free itself.
4.1 Strategy
Edit
Um, go shoot that Ant, I guess.
Previous Mission: Spreading Disaster
Following Mission: Setting Sun
Ad blocker interference detected!
Wikia is a free-to-use site that makes money from advertising. We have a modified experience for viewers using ad blockers

Wikia is not accessible if you've made further modifications. Remove the custom ad blocker rule(s) and the page will load as expected.